At Caseificio San Vitale we craft
the Grana Padano PDO,
born in the lands of the the Po River Valley
made and aged
in the traditional way
San Vitale dairy is located in the green countryside of Seniga, in the province of Brescia. It's a modern factory attached to a maturing warehouse, which produces and ages about 65,000 wheels of Grana Padano P.D.O. (P.D.O. stands for Protected Designation of Origin).
The production of this PDO cheese is characterised by the transformation of raw milk collected from certified farms according to the guidelines detailed in Grana Padano PDO product specifications.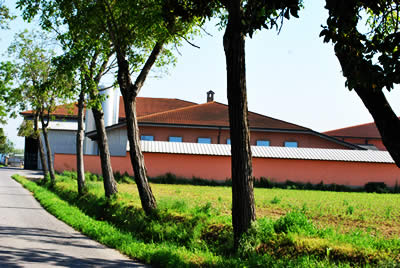 1992
Foundation and production of 10,000 cheese wheels
1995
production was three times larger than when the company began
1999
Semi-automated milk processing equipment was introduced.
2002
Production of 55,000 cheese wheels per year
2007
Cowshed next to the dairy was enlarged and the milk input of self produced milk reached the 20%
2012
Twenty year of "grana padano" and production of 65,000 wheels
Because of the complexity of the factors that influence the quality of the product, San Vitale dairy has taken a series of measures to ensure that the product is healthy and genuine and has excellent qualities. Among these measures, the most important is the direct control of 35-40% of the processed milk, coming from farms owned by the dairy owner , where the philosophy of the food chain involves direct management of all the operations concerning sowing, harvest, cow feeding, breeding and milking systems, all the refined, critical operations that make for top quality milk.
As far as the other farms that provide San Vitale dairy with their milk, the factory has adopted a control system that involves the help of internal and external technicians who in addition to checking the practical aspects concerning, for example, the hygiene and the sanitization of the equipment, the quality of the raw materials and so on, also provide technical support for the full management of a farm in order to reach a larger production of high quality milk.
Caseificio San Vitale is associated with the Consortium of Grana Padano.
The Consortium for the Protection of Grana Padano promotes discovery of the flavors and aromas of the cheese DOP most sold and consumed in the world, a combination of kindness and genuineness, a child product of a long history that can not be measured only with the parameters of the organization , the efficiency and the volume of business, but you write every day with individual skills brought a dowry of who produces it, and sells it matures.